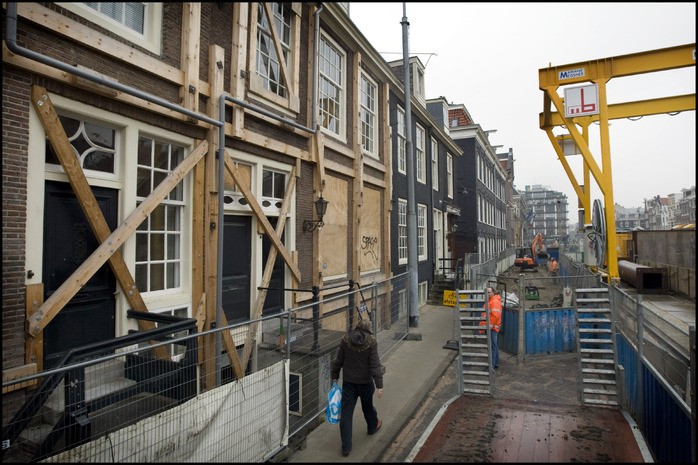 We kennen allemaal de voorbeelden van slechte gebiedscommunicatie. De Noord-Zuidlijn in Amsterdam is een schoolvoorbeeld. Er was gekozen voor een vrij gesloten communicatietraject, waarin betrokkenen alleen die berichten te horen kregen die ze 'aan konden', zoals Ton Baetens het verwoordt in het boek 'de ingenieur en de buurman' (pdf). Als er dan forse tegenslagen zijn, zoals de verzakkingen van panden, kostenstijgingen en dergelijke, gaat het mis. Er komt grote weerstand en het project hangt aan een zijden draadje.
Uit de beruchte voorbeelden uit het verleden, zoals de Noord-Zuidlijn, kunnen we lessen trekken. Dit zijn vooral lessen over wat je níet moet doen. Maar wat zijn wél goede manieren om met de omgeving te communiceren? En hoe communiceer je tegelijkertijd met degenen die voordeel hebben bij je ingreep, zoals toekomstige gebruikers, klanten of toekomstige huurders?
Laten we eerst maar even beginnen met een paar open deuren in te trappen. Dit doe ik liever niet, maar de beruchte voorbeelden laten zien dat deze stappen wel erg belangrijk zijn voor succes (of liever, om een debacle te voorkomen).
Verstrek geen onjuiste informatie. Als er informatie is waarvan je bang bent dat een bepaalde groep die niet leuk vindt, probeer het dan niet anders voor te stellen dan het is. Er zullen altijd mensen zijn die op een of andere manier last gaan ondervinden van het project. Vertel het gewoon, want eerlijkheid duurt het langst.
Wees open met je informatie. Zorg dat alle informatie over het project ergens beschikbaar is. Als je transparant bent, voorkom je wantrouwen jegens het project.
Betrek alle partijen vanaf het begin bij je communicatietraject. Als mensen te laat bij de communicatie betrokken worden, zijn er al allerlei beslissingen genomen en staan er groepen voor voldongen feiten. Dat is een vervelend gevoel en kan leiden tot acties, rechtszaken, enzovoort. En dat terwijl deze groepen de beslissing waarschijnlijk wel hadden geaccepteerd als ze erbij betrokken waren.
Op innovatieve wijze betrekken
Tot zover de (toch wel belangrijke) open deuren die nodig zijn om een deceptie te voorkomen. Maar in plaats van een verplicht nummer om problemen te voorkomen, kun je gebiedscommunicatie ook ten bate van het project gebruiken. Hoe doe je dat? En hoe zorg je ervoor dat je de groepen die tegen je project zijn niet tegen je keert?
Voorbereiding
Alles begint met een goede voorbereiding. Zo ook je communicatieproces. Het is verstandig om nog tijdens de planningsfase, dus voordat je naar buiten komt met je plan, een inventarisatie te maken van het publiek. Welke doelgroepen zijn er?
In veel gevallen zijn er omwonenden, die in ieder geval tijdens de bouw hinder ondervinden van jouw project.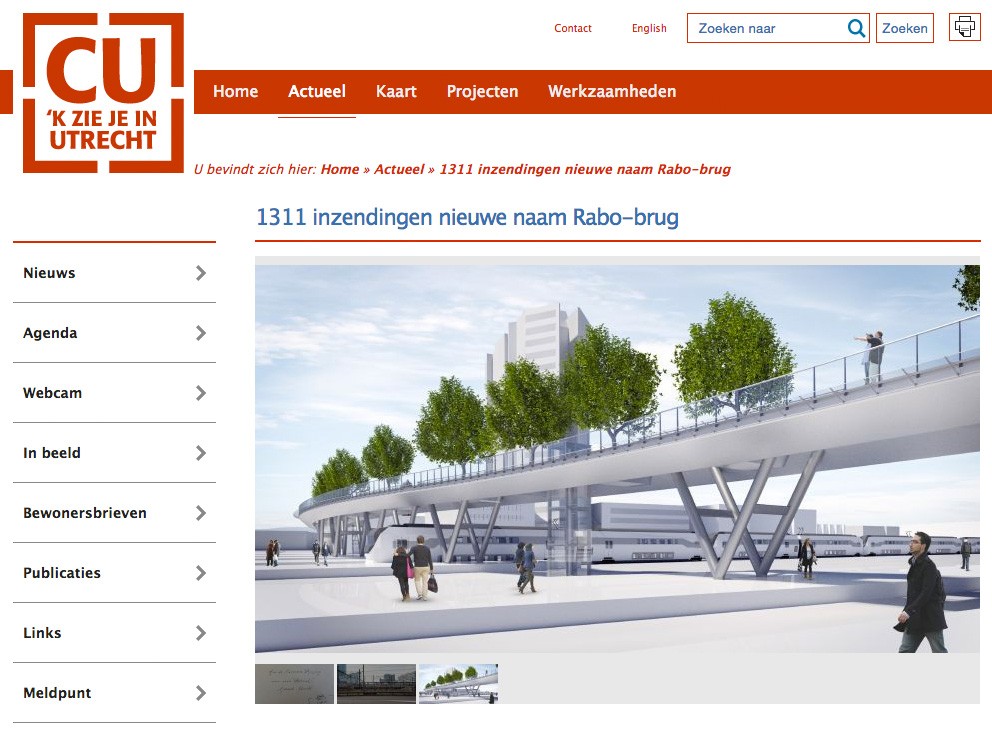 Afhankelijk van het type gebouw heb je verschillende soorten gebruikers. In sommige gevallen is dit een vaste groep (bijvoorbeeld scholieren in het geval van een school). Deze zijn vrij makkelijk te identificeren. In andere gevallen is deze groep meer diffuus, bijvoorbeeld als het gaat om een nieuwe weg of om een bioscoop. Wie zijn de filmliefhebbers en wie gaan er over de nieuwe weg rijden?
Het is belangrijk geen doelgroepen te vergeten. In het eerdere voorbeeld van de school kan er bijvoorbeeld op kleine afstand een winkelgebied zijn waar men bang is voor overlast door scholieren.
Kanalen
Als je je doelgroep geïdentificeerd hebt, is het zaak om de kanalen te kiezen waarmee je je doelgroepen gaat bereiken. Hierbij kun je er, ondanks de grote penetratie van smartphones, tablets en computers, niet vanuit gaan dat je iedereen bereikt met social media, e-mailnieuwsbrieven en dergelijke. Dit is met name van belang bij de communicatie met omwonenden en met andere groepen die direct negatieve effecten ervaren van je project. Als je hen niet allemaal bereikt, kun je alsnog de boot in gaan met je project. Daarnaast is het de vraag of mensen wel via Twitter geïnformeerd willen worden over het feit dat hun straat twee maanden dicht gaat.
Een goede regel is: hoe belangrijker een groep is voor het succes van je project (en dus je communicatietraject), des te persoonlijker de benadering moet zijn. Als je bij de buurtbewoners op de koffie gaat, geef je een sterk signaal af. Je geeft aan dat je de bewoners serieus neemt en krijgt meer informatie over wat zij nu precies problematisch vinden aan het project. Ook voor de andere doelgroepen is het van belang om een benadering op maat te vinden. Niet iedere doelgroep is op dezelfde manier te bereiken.
Communicatie als de basis voor co-creatie
De grootste meerwaarde van communicatie ligt echter in de dialoog. Door middel van een open dialoog met omwonenden, toekomstige gebruikers en andere belanghebbenden kun je niet alleen het draagvlak voor het project vergroten, je kunt nieuwe ideeën op doen. Als mensen het gevoel hebben dat ze betrokken zijn, zullen ze met nieuwe ideeën komen.
Als deze ideeën vanzelf komen, doe je iets goed. Als mensen tijd gaan steken in een idee dat jouw project kan verbeteren, voelen mensen zich echt betrokken. Toen er een tramlijn was gepland in Groningen, heeft een vriend van mij een gedetailleerd plan geschreven waarin hij uitlegde dat de tramlijn best een stuk over enkelspoor kon in een smalle straat. Als hij het gevoel had dat dat plan toch terzijde geschoven zou worden, had hij zijn vrije avonden wel aan iets anders besteed.
Cruciaal hiervoor is een centrale online plaats, waar mensen alle informatie kunnen vinden, de processen kunnen volgen en mee kunnen doen. Als je een interessant project hebt, kun je met een open proces zelfs mensen van buitenaf bereiken die graag meedenken.
De vriend van mij die met het voorstel kwam voor de tramlijn in Groningen woonde zelf niet eens in de stad, maar deed zijn suggestie puur omdat hij geïnteresseerd was in het project. Omdat je niet kunt en moet verwachten dat iedereen online aanwezig is, is het aan te raden de direct omwonenden ook met offline methoden op de hoogte te houden. De offline en online communicatie kan het best strak geregisseerd worden door één partij (bijvoorbeeld een communicatiebureau), om te voorkomen dat je inconsistente boodschappen de wereld instuurt.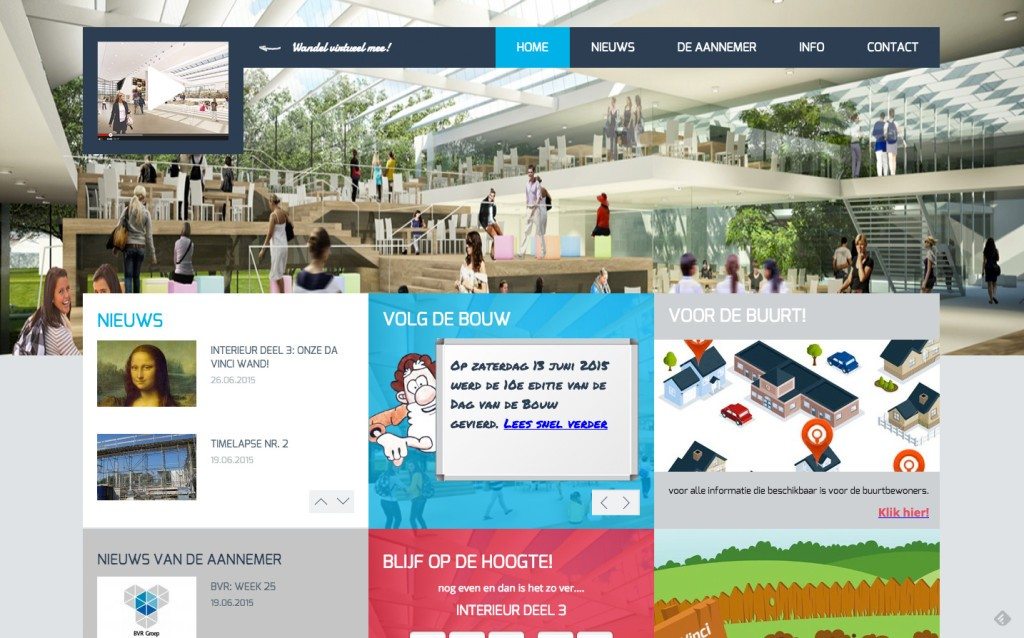 Niet ieder project heeft het appeal van een tram en dus moet je soms de inspiratie iets meer naar je toe trekken. Zo heb ik onlangs een website ontworpen en gemaakt voor een school in aanbouw. De toekomstige gebruikers, de studenten, werden hier nadrukkelijk betrokken bij het ontwerp van de school. Hen werd gevraagd om in één zin hun wensen aan te geven voor de nieuwe school. Deze wensen zijn vervolgens gebruikt als input bij het ontwerp van de school.
Een andere manier is om een ontwerpwedstrijd te integreren in het schoolcurriculum, bijvoorbeeld door leerlingen een ontwerp te laten maken tijdens de techniek- of tekenlessen. Hoe je het ook aanpakt, door gebruik te maken van de denkkracht van gebruikers en geïnteresseerden, verbeter je je project.
De meerwaarde van goede gebiedscommunicatie
Goede communicatie is een 'moetje'. Het is nodig om te voorkomen dat buurtbewoners of andere partijen met de hakken in het zand tegenover je komen te staan, ook al kun je dit nooit honderd procent voorkomen. Er is genoeg gezegd en geschreven over hoe je je communicatie aan moet pakken om de kans op confrontaties te voorkomen.
Wees duidelijk en open naar belanghebbenden toe.
Maar wat je project ook is, het eindresultaat is vaak iets waar je trots op kunt zijn. Een mooie nieuwe school of een belangrijke weg. Met moderne communicatiemiddelen zijn er meer manieren dan ooit om in contact te treden met gebruikers en geïnteresseerden. Mits je open genoeg bent, kun je hun ervaring en enthousiasme zelfs gebruiken ten bate van je project. Je kunt daarnaast je successen (zoals het bereiken van het hoogste punt) vieren met deze mensen en met omwonenden.
Om de twee doelen van gebiedscommunicatie, inwoners op de hoogte houden en cocreatie, elkaar niet te laten bijten, is het van belang dat je boodschap consistent is. Zorg er dus voor dat je communicatietraject strak geregisseerd wordt. Zo kun je van het verplichte nummer een feestnummer maken.
Het bericht Gebiedscommunicatie: van verplicht nummer naar feestnummer verscheen eerst op De Beelddenkers.