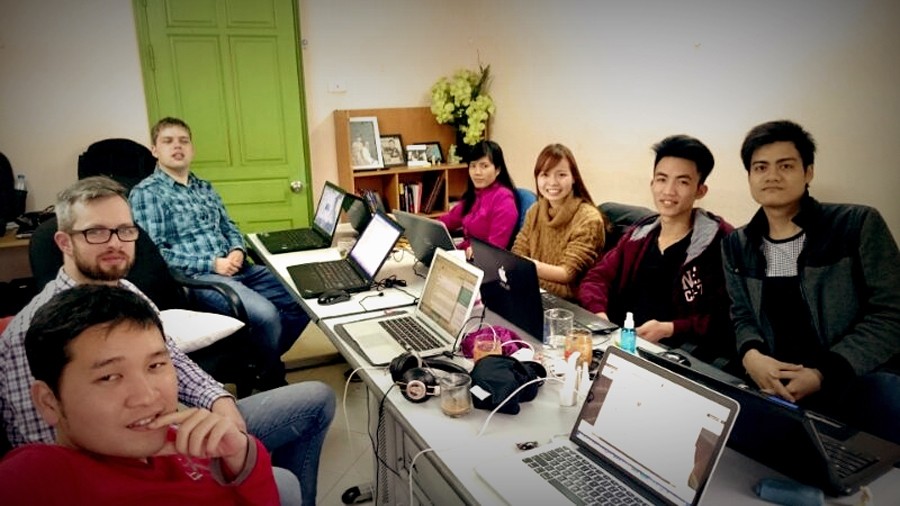 Mijn eerste ervaring met het werken met online werken binnen een internationaal team deed ik op als supportmedewerker bij een internetbureau. Ik vond het magisch dat ondanks tijdsverschil, cultuurverschil en fysieke afstand toch efficiënt samengewerkt kon worden.
Toen ik met mijn eigen bureau startte, heb ik hier een speerpunt van gemaakt: internationaal online samenwerken. Daarom werk ik met mijn bedrijf al ruim drie jaar samen met Vietnamese programmeurs en heb ik een kantoor in Hanoi. Geduld, inlevingsvermogen en heldere communicatie is essentieel om de samenwerking goed te laten verlopen. Een effectief 'virtual team' bouwen kost tijd, maar kan veel opleveren. Hoe kun je een succesvol virtual team opzetten? Volg de zeven stappen hieronder.
Wat is een virtual team?
Een virtual team kan omschreven worden als een groep mensen die onafhankelijk van elkaar (in termen van tijd, afstand en organisaties) werken aan een gemeenschappelijk doel. De teamleden zijn met elkaar verbonden door middel van communicatietechnologie. Virtuele teams kunnen gebruikt worden voor projectwerk (en dus tijdelijk van aard zijn) of voor lopend werk. Virtuele teams kunnen veel veel voordelen bieden voor een bedrijf.
Zo zou je 24 uur per dag door kunnen werken, waardoor je projecten een kortere doorlooptijd hebben. Daarnaast stelt het een bedrijf in staat om de verschillen in loonkosten tussen verschillende landen te benutten. Het is echter niet makkelijk om een goed lopend virtueel team op te zetten. Wanneer een internationaal team iets voor jou is, lees dan hoe je dit in zeven stappen succesvol kunt aanpakken
1. Vind de juiste mensen
Het werken in een virtueel team is niet voor iedereen weggelegd. De leden van het virtueel team werken soms alleen. Wanneer je actief bent in de IT is het daarom niet alleen belangrijk dat je programmeur goed kan programmeren, maar hij moet in staat zijn om te zien wat er moet gebeuren. Je teamleden moeten in staat zijn om goed te kunnen communiceren. Dat klinkt als een cliché, maar bij virtuele teams is het van nog groter belang dan bij 'echte' teams. De leden van je team moeten goed Engels kunnen (of een andere taal die iedereen spreekt) en het is belangrijk dat je teamleden betrouwbaar zijn.
De vraag is: waar vind je deze mensen? Ik heb de juiste mensen voor mijn online projecten op drie manieren gevonden: via marktplaatsen voor werk, via iemand die je al kent (snowball recruitment) en via een lokale recruiter.
Marktplaatsen voor werk
Er zijn een groot aantal marktplaatsen voor werk zoals Fiverr en Elance. Via deze websites bieden allerlei freelancers zich aan voor klusjes. Als je een keer een klein klusje hebt, is dit een ideale mogelijkheid om eens te kijken wat voor talent er allemaal rondloopt. Iemand die via een website als Fiverr goed werkt levert, betrouwbaar overkomt en met je meedenkt is potentieel virtualteammateriaal. Deze mensen kun je (al mag het niet van de voorwaarden van de meeste websites) buiten de website om benaderen voor je virtual team.
Snowball recruitment
Als je eenmaal iemand een virtual team hebt, kun je aan je teamleden vragen of zij nog iemand weten die jou kan helpen. Ook veel reguliere bedrijven vertrouwen op hun personeel bij het inhuren van nieuwe mensen.
Een lokale recruiter
Naast mijn programmeurs heb ik toevallig een kennis in Hanoi zitten. Als ik een nieuwe werknemer nodig heb, kan ik aan deze kennis vragen of hij voor mij iemand kan werven. Hij plaatst advertenties, neemt sollicitatiegesprekken af met de kandidaten en stelt de beste kandidaat aan mij voor. Ik onderhandel vervolgens met deze kandidaat over het salaris en de werktijden.
2. Zorg voor de juiste randvoorwaarden
Als je samenwerkt met iemand in een ander land, ben je afhankelijk van de techniek. Om die reden huur ik dan ook een kantoortje voor mijn programmeurs in Hanoi. Het huren van een kantoor kost natuurlijk geld, maar het is een goede investering. In het kantoor hebben de programmeurs de beschikking over een snelle internetverbinding. Ook betaal ik voor software die ervoor zorgt dat mijn programmeurs hun werk veilig en efficiënt kunnen doen.
Desondanks heb je niet altijd alles in de hand. Zo konden mijn programmeurs begin januari niet zo hard werken als gewoonlijk omdat een belangrijke internetkabel naar Vietnam beschadigd was. Het verhaal ging dat een haai de internetkabel had stukgebeten, hun internet was een paar dagen lang erg traag. Maar goed, ook een Nederlandse programmeur is ook wel eens laat omdat de treinen niet rijden.
3. Creëer duidelijkheid voor jezelf en je team
Hoewel het werken met een virtueel team goede mogelijkheden biedt om samen te werken, vereist het wel een andere manier van werken dan je misschien gewend bent. Het zelforganiserend vermogen van een virtueel team is wat minder groot. Er is geen digitale variant van een koffieautomaat en dus spreken mensen elkaar alleen als ze wat van elkaar nodig hebben. Dit moet op een of andere manier gecompenseerd worden.
Bij een virtueel team is het dus van extra belang om van te voren duidelijk te maken wie wat moet doen. Wie is verantwoordelijk? Wanneer is wat af? Wat is het doel waar het team aan werkt? In sommige gevallen is dit evident, maar als dit niet duidelijk is, zullen je teamleden minder goede beslissingen maken.
4. Gebruik geschikte communicatiesystemen
Ook tijdens een project is het belangrijk dat er duidelijke structuren zijn. Ik communiceer met mijn medewerkers in Hanoi op twee manieren: via Skype en via Basecamp. Via Skype communiceer ik met mijn team of met individuele medewerkers afzonderlijk. Korte vragen worden via de chat afgehandeld. Gaat het om een ingewikkeld technisch probleem, dan werkt TeamViewer goed.
In Basecamp worden taken uitgezet die zowel door de teamleden en de klant gevolgd kunnen worden. Problemen visueel uitleggen werkt daarbij goed. Ik gebruik hiervoor bijvoorbeeld Awesome Screenshots, een add-on waarmee je met pijltjes en opmerkingenzaken helder kunt uitleggen. Hiermee verklein je de kans op verwarring.
5. Houd rekening met culturele verschillen
Samenwerken met andere culturen is leuk, maar soms ook lastig. Je kunt je voor een deel inleven (bijvoorbeeld met hulp van de culturele dimensies van Hofstede en boeken over zakendoen in een bepaald land), maar in de praktijk is het een uitdaging. In Vietnam houden ze van heldere opdrachten, die ze dan ook goed uitvoeren. Alleen is het zelfdenkend vermogen soms wat minder. Vanuit je Nederlandse bril wil je graag dat ze niet bang zijn zichzelf uit te spreken, maar in Vietnam spreek je je 'baas' niet zo snel tegen. Vietnamezen hechten meer waarde aan hiërarchie en autoriteit dan wij.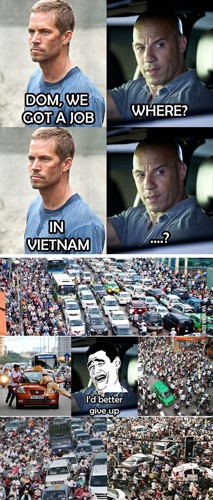 Het tijdsverschil met Vietnam is vijf uur in de zomer en zes uur in de winter. Ik heb met mijn programmeurs afgesproken dat ze wat later beginnen en wat langer doorwerken, zodat het wat meer aansluit op de Europese tijdzone. Wanneer leden van je team over verschillende tijdzones verspreid zitten, is wat flexibiliteit soms wel gewenst.
Ook de jaarkalender verschilt van land tot land. Als wij met kerst aan de kalkoen zitten, werken de jongens in Hanoi gewoon door. Aan de andere kant gebeurt er in Vietnam twee weken niets rond het Vietnamese Nieuwjaar dat half februari begint. Houd hier met je planning rekening mee.
6. Vinger aan de pols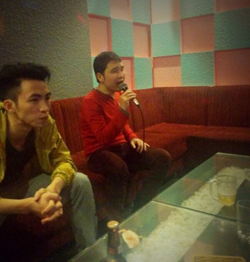 Wanneer je van plan bent een virtueel team op te bouwen en daar langdurig mee samen te werken, is het aan te raden om naar ze toe te gaan en ze te leren kennen. Dit klinkt paradoxaal wanneer je praat over een 'virtueel' team, maar het helpt enorm om onderling vertrouwen op te bouwen. Ze zien dat jij een echt persoon bent, die waarde hecht aan hun werk. En ja, er zijn vervelendere plekken om naar toe te moeten dan Hanoi.
Verder is het nuttig om af en toe met het hele team te overleggen, maar vergeet ook niet om af en toe met individuele teamleden te spreken. Om de betrokkenheid te vergroten, update ik mijn teamleden ook als ik contact heb gehad met de opdrachtgever.
7. Houd je team gemotiveerd
Uit onderzoek is gebleken dat virtuele teams vaak minder gemotiveerd zijn dan 'echte' teams. Maar dat hoeft niet voor jouw team te gelden. Er zijn een aantal simpele trucs die je kunt toepassen om je team gemotiveerd te houden:
Delegeer, dit zorgt ervoor dat jij meer tijd hebt. Tegelijkertijd is je deelprojectleider gemotiveerder.
Bouw aan een teamcultuur. Zorg ervoor dat je teamleden leert kennen, zodat je ze vragen kunt stellen over wat hun bezig houdt.
Vier mijlpalen, trakteer je team op een etentje of een vrije dag.
Samenwerken in een virtueel team iets voor jou?
De voordelen van virtuele teams kunnen groot zijn. Het belangrijkste voordeel is natuurlijk het besparen van kosten, maar dat is niet het enige voordeel. Virtuele teams kunnen rond de klok werken. Teams met verschillende culturen zijn creatiever.
Het werken met een virtueel team vereist echter wel geduld en inlevingsvermogen. Niet iedereen is in staat om duidelijk te communiceren met iemand uit een andere cultuur die geen perfect Engels spreekt. Het opbouwen van een goed draaiend virtueel team kost tijd. Je moet hier voor willen gaan, want half werk heeft niet zoveel zin. Als je de juiste mensen weet te vinden en het geduld hebt om je team goed te organiseren, dan is een virtual team een uitstekende investering.
Het bericht Virtuele teams: wereldwijd succesvol samenwerken verscheen eerst op De Beelddenkers.