Circa 9,5 miljoen mensen in Nederland gebruiken WhatsApp. Deze messagingapplicatie heeft in korte tijd SMS min of meer vervangen en heeft een vaste plaats verworven op veel telefoons. Sommige grote bedrijven gebruiken WhatsApp actief voor hun klantencontact. Bij kleinere bedrijven zie je dat minder vaak. Een goede reden dus om in te gaan op de vraag hoe kleine ondernemers WhatsApp kunnen gebruiken als marketingkanaal, maar vooral ook hoe ze het beter niet kunnen gebruiken.
Eigenschappen van WhatsApp
Om WhatsApp op een goede manier te gebruiken, is het allereerst van belang om het medium te ontleden. Wat zijn de kenmerkende eigenschappen van WhatsApp?
WhatsApp is snel – WhatsApp is een bijzonder snel medium. De meeste WhatsApp-berichten worden binnen enkele minuten na verzending geopend. E-mail en andere media kunnen hier niet aan tippen. Dit werkt echter twee kanten uit. Klanten die jou een bericht sturen verwachten ook snel antwoord.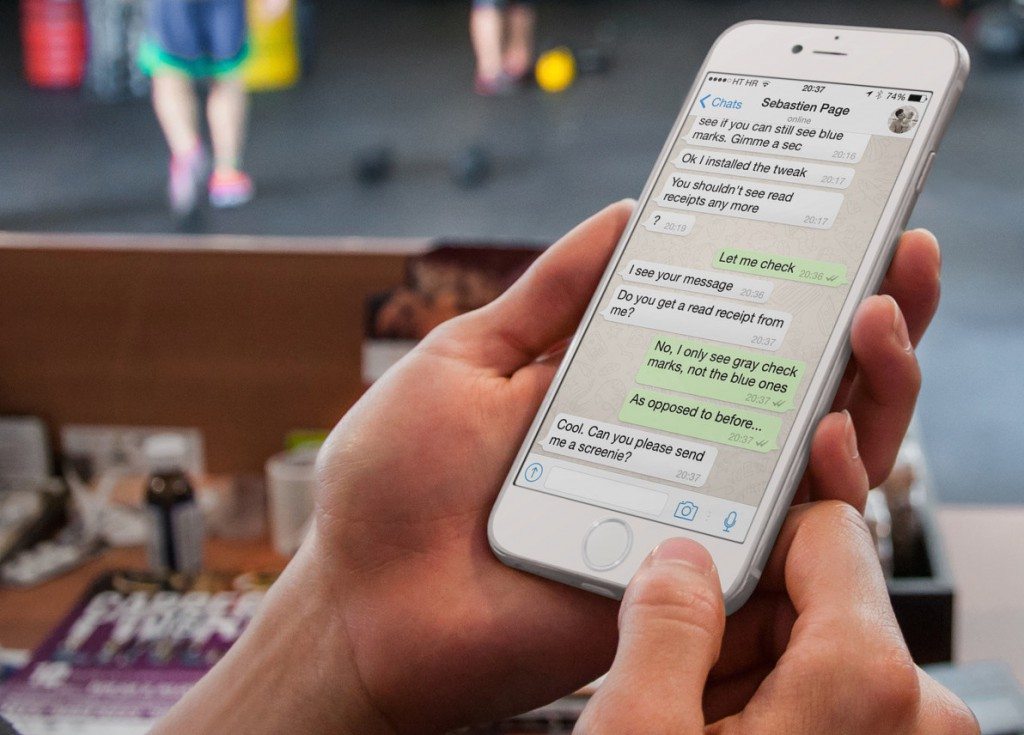 WhatsApp is persoonlijk – WhatsApp wordt vooral gebruikt door mensen om met hun vrienden of familieleden te communiceren. Het percentage berichten dat gelezen wordt is vermoedelijk tegen de 100 procent. Maar mensen zijn het nog niet zo gewend om te communiceren met bedrijven via WhatsApp.
WhatsApp is tweerichtingsverkeer – Veel van het verkeer op WhatsApp vindt plaats in de vorm van een gesprek. Ook als je een berichtje stuurt met een korte mededeling ("Ik ben vijf minuten later"), zal de ander een bevestiging sturen ("Okay. Ik wacht bij de fontein"). Meer nog dan bij sociale media, zal je de dialoog aan moeten gaan met mensen met wie je via WhatsApp in contact treedt.
WhatsApp is meer dan alleen tekst – WhatsApp beschikt sindskort over een belfunctie. Daarnaast kun je audiofragmenten, video's, afbeeldingen, contacten en locaties meesturen. Dit geeft de app een soort gelaagdheid. Als je er niet uit komt met geschreven tekst, kun je je gesprekspartner bellen of een afbeelding of video meesturen.
WhatsApp-contact vereist een telefoonnummer – Je hebt een telefoonnummer nodig om met iemand te spreken. Dit heeft gevolgen voor wie je kunt bereiken via WhatsApp.
WhatsApp is min of meer gratis – Waarschijnlijk heb je een smartphone en waarschijnlijk gebruik je WhatsApp. De enige extra kosten die je verder nog hebt: tijd.
Er zit een blokkeerfunctie in WhatsApp – Als je te opdringerig bent, is het einde klantcontact. Je wordt geblokkeerd en zult andere manieren moeten vinden om met je klant in contact te treden. Als de klant dat überhaupt nog wil.
Hoe gebruik je WhatsApp voor je marketing?
We hebben dus de karakteristieken van WhatsApp ontleed. Hoe kun je nu het beste gebruikmaken van WhatsApp voor het klantencontact?
Eerste klantencontact
Een aantal grotere bedrijven heeft WhatsApp gebruikt om het eerste klantcontact te faciliteren. De Hypotheker was één van de eersten en was hier succesvol mee. Klanten kunnen hun eerste vragen kunnen stellen aan een bedrijf via WhatsApp en omdat ze al geïnteresseerd zijn, is het relatief makkelijk om een vervolg aan deze interesse te geven. Voor klantvragen waarbij visuele informatie van belang is, is WhatsApp handiger dan een telefoongesprek. Een autoschadeherstelbedrijf kan aan de hand van een via WhatsApp ingezonden foto een indicatie geven van de herstelkosten.
Hoe pak je dit aan? Heel simpel. Zet op je visitekaartjes en je website dat je bedrijf via WhatsApp bereikbaar is. Zorg ervoor dat er (in ieder geval binnen de openingstijden van je bedrijf) snel geantwoord wordt.
Helpdesk
CoolBlue is als een van de eerste begonnen met een helpdesk via WhatsApp. Een fantastisch idee wat mij betreft. Net als in het vorige voorbeeld kunnen klanten makkelijk een foto of een filmpje meesturen om duidelijk te maken wat er aan de hand is. Ook kun je snel extra informatie meesturen. Voor veel voorkomende problemen kun je instructiefilmpjes of -plaatjes maken die je zo via WhatsApp naar de klant stuurt. Eventueel kun je de klant vragen jou te bellen, als het probleem zo makkelijker op te lossen is. Ook een helpdesk via WhatsApp is makkelijk op te starten en zal bepaalde doelgroepen erg aanspreken.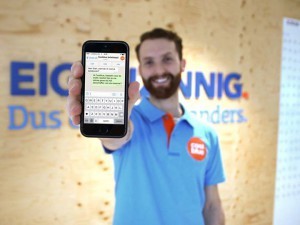 Nazorg
WhatsApp is een uitstekend medium om contact te houden met de klant nadat deze iets bij jou gekocht heeft. Een installateur kan bijvoorbeeld na een paar dagen even vragen of de nieuwe cv-ketel goed werkt. Als een klant een paar kleine vragen heeft, kan hij deze nog even stellen. Hoewel het kan zijn dat er soms wat extra werk wordt veroorzaakt door deze vorm van nazorg zullen je klanten tevreden zijn. Ook bij producten of diensten die met een vaste regelmaat worden afgenomen, kan WhatsApp ingezet worden. Denk bijvoorbeeld aan een berichtje als: "Hallo meneer Voorberg, het is bijna een jaar geleden dat uw auto een APK-keuring heeft gehad. Heeft u volgende week tijd om uw auto even langs te brengen?"
Push-berichten
WhatsApp biedt de mogelijk om een bericht te sturen naar 250 contacten. Voor sommige bedrijven zal dit veel te weinig zijn, maar voor kleinere ondernemers is dit waarschijnlijk voldoende. Ik verwacht echter dat pushberichten weinig effectief zullen zijn. Omdat WhatsApp zo'n persoonlijk medium is, zullen reclameberichten als erg storend worden ervaren. Wellicht dat je klanten het waarderen als je ze een gelukkig nieuwjaar wenst, maar reclameboodschappen zullen waarschijnlijk genegeerd worden. Of erger, je wordt geblokkeerd, waardoor je helemaal niet meer via WhatsApp in contact kunt treden met de klant.
Betekent dit dan dat push-berichten geen waarde hebben? Nee, sommige mediabedrijven bieden nieuwsservices aan via WhatsApp. BredaVandaag geeft in het geval van groot nieuwsnieuwsalerts, en datzelfde geldt voor NRC-Q en de BBC. Hoewel dit technisch niet makkelijk is, leidde het tot een groot aantal extra pageviews voor de Bredase nieuwssite. Maar voor je geld steekt in het ontwikkelen van een dergelijke service moet je jezelf als kleine ondernemer afvragen: zou ik zelf gestoord willen worden met nieuws over mijn product als ik een romantisch dinertje heb met mijn partner? Het antwoord zal in de meeste gevallen 'nee' luiden.
Pushmeldingen kunnen wel van waarde zijn op evenementen. Als je een evenement organiseert (zoals een training), kan je WhatsApp gebruiken om de deelnemers op de hoogte te houden van veranderingen. Als je tien minuten voor tijd te horen krijgt dat je evenement in een andere zaal plaatsvindt, kun je beter een WhatsApp-bericht sturen dan een e-mail. Eventueel kun je na afloop van het evenement een groepsdiscussie faciliteren via WhatsApp.
WhatsApp-marketing: wat moet ik ermee?
Het is niet makkelijk om nieuwe klanten binnen te halen via WhatsApp. Hier zijn verschillende redenen voor. Je hebt telefoonnummers nodig van potentiële klanten en je berichten worden al snel als storend ervaren als deze ongevraagd binnen komen. Ook al biedt je de klanten de mogelijkheid om contact op te nemen via WhatsApp, ze zullen dit alleen doen als ze bekend zijn met je bedrijf en je telefoonnummer hebben. WhatsApp heeft dus, zoals communicatiekanalen, een plaats in een bredere marketingstrategie. Omdat WhatsApp laagdrempelig is en omdat een gesprek 'even tussendoor' kan, zullen sommige mensen WhatsApp verkiezen boven een telefoongesprek of een bezoek aan een fysieke winkel.
Desondanks zie ik zelf meer waarde in WhatsApp als kanaal om bestaande klanten te behouden. Klanten zullen een persoonlijke en snelle service altijd waarderen. Met een goede nazorg en een snelle helpdesk kun je klanten tevreden houden, waardoor je uiteindelijk meer omzet zult genereren.
Kortom, maak aan potentiële en nieuwe klanten bekend dat je via WhatsApp bereikbaar bent, en zie wat er gebeurt. Je kunt de klanten op een erg persoonlijke manier te woord staan en de meeste klanten zullen dit waarderen. Net als bij andere vormen van marketing zal het wel even duren voordat de effecten van WhatsApp-marketing zichtbaar worden. Doordat WhatsApp laagdrempelig is en nagenoeg niets kost is het juist voor de kleine ondernemer interessant.
Credits afbeelding: Álvaro Ibáñez, licentie: CC BY (Commercieel hergebruik, inclusief aanpassing)
Het bericht WhatsApp: dé manier om in gesprek te gaan met (mogelijke) klanten verscheen eerst op De Beelddenkers.